Blinds for Patio Doors
Customer Issue: Ms. Rodriguez wanted to stop her home from heating up so much due to the sun pouring in through her patio doors and came to us for help.
Our Solution: Working with the customer to incorporate her tastes and style for her home, our team assisted her in finding the perfect set of white blinds to suit her patio doors. Once the custom-made blinds were completed to the measurements of the area, our experts installed them right away.
Brenda Rodriguez
- Hidden Hills
Aluminum Blinds
Customer Issue: The existing fashionable curtains did not provide enough privacy and light control and the customer wanted to add new window treatments that will do that.
Our Solution: Our team recommended durable aluminum blinds that will allow the customer to block the sunlight and increases privacy and will fit snugly behind the curtains. The customer chose 2" vanes in chic metallic color that complemented the texture and shade of the curtains, with both a wand tilt and a cord pull.
Clifford Gilmore
- Thousand Oaks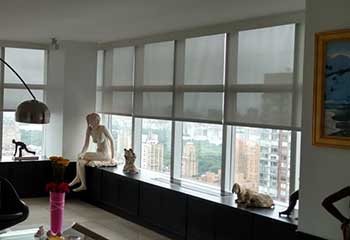 Solar Shades
Customer Issue: This customer had large west-facing windows that were making his home unbearably hot.
Our Solution: Our professionals suggested light-colored solar shades, which allowed daylight into the room while reflecting the heat away. The customer agreed, opted for the motorized version and chose the fabrics. Last but not least, our team mounted the shades and explained how everything worked.
Eric Michaels
- Westlake Village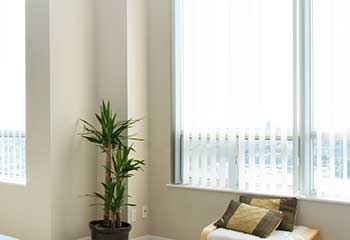 Vertical Blinds
Customer Issue: This customer wanted a better solution for her odd sized windows.
Our Solution: Since the customer needed an easy way to control how much light entered the room that also looked nice, our professionals recommended vertical blinds. They were made to perfectly fit our customer's windows and our team returned and installed them in no time at all.
San Fernando
- Jennifer Smith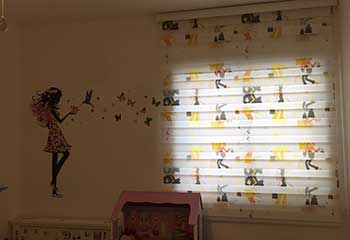 Motorized Shades
Customer Issue: Our customer was concerned about her kid's safety who wouldn't stop playing with the lift cords.
Our Solution: Our team removed the existing window treatments, measured all the windows and mounted new shades. Our technicians then programmed the remote and made sure everything was perfectly functioning. Of course, our professionals explained to the customer how to program and use the newly installed mechanism.
Natalie Nielson
- Santa Monica