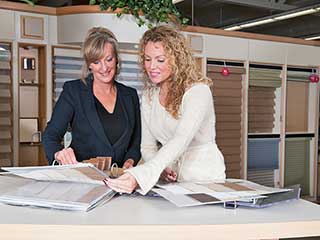 We are a local company that offers an incredible selection of beautiful modern window treatment options for both residential and commercial spaces. New motorized blinds can help you give a sophisticated look to any room, while also serving a purpose: providing light control and UV protection, keeping a room more energy efficient, and ensuring your privacy.
Everything Under The Sun
Whether you are looking for window sun shades for a patio, insulated blinds for a meeting room, or delicate sheer shades for a bedroom, we've got you covered. We can even offer you a free color sample so you'll be able to see what it will look like in your window. You can rest assured that there's no commitment on your part after we provide the color sample, and we'll be more than happy to answer any questions you may have on the subject.
No Need To Decide Alone
If you're a little overwhelmed by all of your options, call for a free consultation and let us make it easier on you. One of our experts will come to you and help you discover the right window treatment for you and match the look and feel of your space. If you don't find the perfect color, fabric or design in our selection, be sure to ask about the custom designs we also have available!
Special Useful Benefits
In addition to beautifying your property, window treatments can do a lot to maximize a building's functionality. Shades and blinds can help filter the light in a sunny conference room so your employees will be able to use their laptops and tablets without a nasty glare. Darkening shades can help keep bedrooms dark and cool so that you'll be able to sleep uninterrupted and won't be woken before you want to be. Many of our products come with a top down, bottom up option, especially our motorized blinds, which will allow you to raise and lower the shade with comfort and ease. This gives you more flexibility in achieving the look and feel you want the room in question to have.
We're Here To Help
There's no need for you to make an uninformed decision. Our experts at Calabasas Blinds & Shades are here to provide all the assistance you need, from selection to installation. We're one of California's leading window treatment companies, and we'd love to help you improve this aspect of your home or your commercial property. Not sure about something? Simply get in touch with us and ask our experts anything.
Don't forget to ask about the 5-year warranty on all of our products.
Schedule Your Consultation Today!

Free Color Samples

Custom Made Designs

High-Quality Products

Commercial & Residential Services