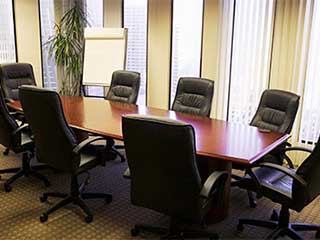 We offer a great range of vertical blinds for windows of all sizes and shapes. This means it's easy for you to add even more comfort and security to any room. Remember, with our impressive range of designs it's easy to find one that looks great, too. Calabasas Blinds & Shades is the no.1 local source for custom vertical blinds nearby. We provide free estimates on a vast collection of custom made window treatments, vertical and horizontal. Using only top-quality materials like vinyl, wood, faux-wood, and others, allows us to install strong blinds that look good and stay functional for a long time. From vertical blinds with curtains to valances and blind/shade combos. We can offer every type of vertical cover for windows and sliding glass doors you want.
Custom Vertical Blinds For Doors & Windows
In addition to creating custom window coverings in wood, aluminum, and vinyl, we also build vertical blinds for larger surfaces. Like sliding glass doors, for example, or window walls. We provide free consultations on our vertical blinds anywhere near the Calabasas area. These types of covers do the best job of blocking sunlight from coming through large glass surfaces. We'll show you our different color and material choices, as well as a variety of control and vertical blinds motorization methods. Once you choose the combination you want, we'll start working on your new custom window shading product. Speaking of motorization…
Great Deals On Motorized Vertical Blinds in Calabasas
Our low prices on vertical blinds also include motorized window coverings. These amazing products are the best way to introduce cutting-edge technology to your home. With wireless and wired options available, it's easy to fit remote control blinds to any window in your home. Once they're installed, you can adjust natural light levels with nothing more than a press of a button, or a tap on a smartphone. This means you can cover the windows in your living room as soon as it gets dark, without going across to each window individually. With our specially-designed vertical blinds for sliding glass doors, this is a great way to minimize hassle at home. We also provide vertical blinds for patio doors, so it's easy to get maximum convenience at home. Get cheap motorized vertical blinds for your Calabasas home today by contacting our team for a free quote.
Commercial Vertical Window Treatments
It's not only Calabasas homeowners that can benefit from our custom vertical blinds. If you're a business owner, you need to know that employees and customers alike are comfortable on your premises. Nobody can do their best work when they're dazzled by sunlight, so why not upgrade your workplace with vertical blinds for office windows? This can also be an excellent investment for workplaces where it's important to have privacy, such as medical and dental practices. Keep bright light out of your meeting rooms and work in comfort with our range of high-quality, low-price vertical blinds.
Choosing The Perfect Custom Blinds
Window coverings can turn a room into a bright, open-feeling space. You'll get better privacy and comfort when you choose the right blinds, so why settle for less than the best? Our cheap rates for custom vertical blinds make it an easy decision to make, and our amazing range of customizable options give you total control over the end product. To find out more about what we can do for you, just contact our team here at Calabasas Blinds & Shades and schedule a free estimate. Our representatives will be more than happy to show you all the different options we offer for vertical blinds and other coverings.