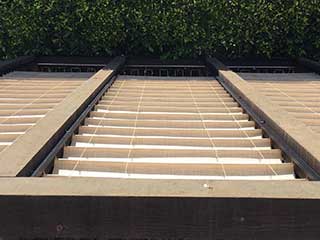 If you live in the Calabasas area and don't have a patio, it's time to consider adding one to your home. Not only will a patio or deck give your home added living space. With it, you can add value and style to an otherwise boring backyard. A covered patio will give you an extra living space that will become the most frequented area of your home. Enclose your patio with outdoor shades and you have an entertainment area you can use all year round for birthdays, family gatherings and any other celebration you can think of. Calabasas Blinds & Shades offers the best patio shades for any outdoor area you want to enclose. Have a look at what we can do for your home.
Sun Shades For Patios
The summer sun can be brutal and in Calabasas, the hot days seem to be endless. We have an extensive selection of colors, patterns, and materials that you can choose from for your custom patio shades. Perhaps you have a deck that isn't being used because it's too hot to sit out there in the heat of the day. Let us show you our range of deck awnings. Not only will they add some charm to your home's exterior, but you'll also have a permanent shady place to sit down and relax.
Motorized Exterior Shades
For added convenience, our range of patio shades can be installed with motors. With the touch of a button, you can enclose your patio and stay warm, long after summer has ended. Motorized outdoor shades are easy to operate making the transition between an open patio or a closed one a breeze.
In-Depth Advice & Consultation (For Free)
Our team of consultants will come to your home and help you choose the best materials for your outdoor shades. We only use quality materials and professional installers which is what you want when adding motorized patio shades to your outdoor area.
Benefits Of Patio Shades
Calabasas enjoys some of the best weather in the state and that means lots of outdoor entertainment. Roll-up shades for outdoors are a great addition to your patio because you can completely enclose this area when it gets cooler, keeping the warmth in, and the wind and rain out. Talk to our team and they'll show you the best materials for custom outdoor roller shades that work well in any weather. Even in wet weather, our range of waterproof outdoor shades will keep the rain out and not have you running for shelter. With waterproof exterior shades, you can be sure you won't have any puddles forming in your patio area no matter how much it rains.
Value You Can See
While curb appeal is important, the view of your home from the back is also crucial when it comes to adding value to your home. A drab patio is easily transformed into something special with the right patio shades. We like to consider ourselves the local experts on exterior shades for gazebos, patios, courtyards and various types of decks. Our consultants can help you choose the right custom outdoor shades or even some ready-made ones if you're in a hurry. Our outdoor shades are made from quality materials and our installers are fully qualified to do the job right. For patio shades that won't disappoint, call Calabasas Blinds & Shades today.