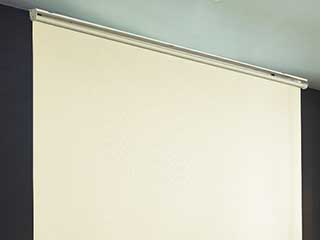 These shades are available in room darkening, light filtering, and blackout varieties. All three types are available for purchase in an array of materials, including vinyl and fabrics, and in several colors and designs. The simplicity and elegance these window coverings offer can be a wonderful addition to any room, both in terms of decor and light filtering options.
A Lot of Versatility
When you decide to get roller shades, you'll be able to choose a cover that suits your property's design and provides the amount of light control and privacy you want. For example, light filtering shades will fill your home with the perfect amount of warm, natural light while offering protection from UV rays. Blackout shades offer even more light control and can send the room into pitch darkness when you so choose. They are perfect for rooms where you want the option for minimal light, like a bedroom or a nursery.
Different Styles Of Operation
These window coverings can work in several different ways. For example, you can choose from either a continuous loop shade, which is perfect for large windows or heavy fabrics. You can also go with a cordless option, which is a key safety consideration for homes with children or pets. These shades can be customized to fit windows of pretty much any size, and their position can be easily adjusted to allow less or more sunlight in. Most work best with an outside mount to minimize any light gap. If you want complete privacy or a blackout, you may want to pair these shades with curtains or a window trim.
Need Help Deciding?
No need for you to start combing the internet for different comparisons between different types of window treatments and their pros and cons. That's what our experts at Calabasas Blinds & Shades are here for. Schedule a free consultation today and let us provide all the guidance and information you need to choose the perfect new window coverings for your home or business.