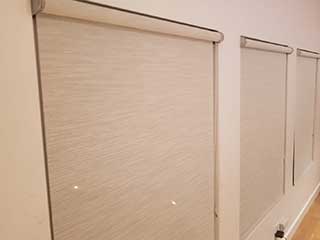 If you have a room that needs total privacy or sunlight protection, blackout blinds are a must. These blinds offer the opacity of a solid wall and the flexibility of fabric shades. Choosing window treatments that provide the best privacy is crucial for bedrooms and office meeting rooms. With our custom blackout blinds, motorized or manual, you can get maximum privacy with other useful features. Anyone looking for the best blackout blinds installers near Calabasas can turn to us for a free quote and consultation.
What Are Blackout Blinds?
Blackout blinds are made from thick, soft fabric with a layer of light-blocking foam. They don't look different from normal cloth blinds, but they repel sunlight and are impossible to see through. Meanwhile, they let in much more air than solid shutters and don't look as oppressive. Blackout blinds can retain the softness of a bedroom or the inviting atmosphere of an office waiting room. Our blackout blinds come in every color of the rainbow, which means you can install them in any Calabasas property without ruining the look and feel of the room.
Office And Conference Room Privacy Blinds
Sunlight can do a real number on screens, computer wires, and your workplace's wallpaper and carpeting. On top of that, the glare of a sunny day can make it hard to look at your desk or screen, and make customers not want to be in your office or atrium. With some office window blackout blinds, you won't just make your workplace more comfortable and inviting. You'll also save money on repairs and maintenance. Nothing makes a meeting or conference room feel as secure as some well chosen blackout blinds on the windows.
Blackout Blinds For Bedroom Windows
Bedrooms are the most common places to hang blackout blinds, and it's easy to understand why. Uncomfortable late evening and early morning summer glare is a thing of the past with blackout blinds, as is winter gloom. As well as having a lot of fabric surfaces and delicate furniture to protect, bedrooms need to keep a comfortable, relaxed atmosphere. Blackout blinds keep the sunlight and the nosy neighbors out without closing off the windows from the inside. Like other cloth blinds, they allow air circulation, and their soft texture is instantly soothing. With products available in cream, tan, black, and anything between, you can be sure that Calabasas Blinds & Shades's consultants will know the perfect color and style for your bedroom.
Horizontal Or Vertical Window Treatments?
Most windows are taller than they are wide, and best served by horizontal blind slats that rise and lower. If your window is longer or lower than most, our products are available in a vertical configuration as well. Vertical blinds have their slats pointing up and downward, and slide along your window sideways on a set of rollers and tracks. Blackout blinds are flexible, and work just as well in vertical, horizontal, or even fancier arrangements. Your Calabasas home and/or business can benefit from blackout window treatments aligned at any angle.
Blackout Roman Shades
Roman shades are some of the most sought after window treatments in the world. Here at Calabasas Blinds & Shades, we combine them with blackout fabric to create blinds that mix perfect beauty with domestic utility. Out blackout Roman shades are available with valences, curtains, and other embellishments. If you want blackout blinds that also work as a centerpiece for the room, we've got you covered with these!
Get Your Blinds Motorized
Electric window blinds aren't just a fancy gimmick anymore. Every year, Calabasas business and homeowners lose money on faded wallpaper, bleached furniture, and extra heating and cooling costs that they could have saved. It's all because they forget to adjust their window blinds. Get a set of motorized blackout blinds, and you no longer have anything to forget! Our team installs timers, sunlight sensors, and other features that can make your blinds smart enough to protect your house all on their own.
Custom Blackout Window Treatments Near You
Live or own commercial property close to the Calabasas area? Our blackout blinds and other shading products are custom made and include a free consultation appointment and warranty. Give us a call and meet with a local blinds specialist for a full consult and estimate (for free!).