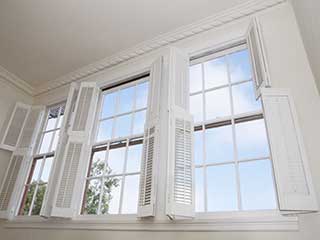 If you're looking for the ultimate window coverings, then our range of amazing plantation shutters is for you. These units are an excellent addition to any home, whether they're fitted inside or as exterior shutters. Our selection offers you an enormous range of different choices, from varying materials to high-quality designs. Make your property more comfortable and attractive with Calabasas 's best custom plantation shutters.
Find Affordable Plantation Shutters
These window coverings will amaze you with how great they look. That's not just because our range of plantation shutters comes from the best manufacturers around. It's thanks to our many different design options. This means that you can choose attractive materials such as real wood, which fits well with almost any home decor scheme. This isn't all, though. You can also select custom finishes from our wide range, enabling you to find the perfect design for your property. We understand that each Calabasas home is as unique as its owner. Our design philosophy ensures you'll find plantation shutters that perfectly match your needs.
Exterior Shutters For Any Property
The windows in your home need to be properly covered by effective treatments. If there's no way to cover them up, this leaves your property exposed to the full glare of the sun all day long. This can be extremely uncomfortable, but it isn't the only problem. Your neighbors and passers-by will be able to see right into your rooms, any time of day or night. The best way to prevent this is to choose a set of custom shutters for your windows. Our products are easy to use and look fantastic, with plenty of design choices available. Speak to one of our experienced window shutters and blinds experts in Calabasas today to get a free quote for your property.
Custom Motorized Plantation Shutters
Well now, that's quite a mouthful, isn't it? Well, it's what we pride ourselves on. Crafting window treatments with so many attributes and features it takes longer to say the whole thing. In all seriousness, though, we do take pride in our motorized plantation shutters. They can offer you the beauty and convenience of their manual counterparts, except you can control them with your smartphone, a regular remote, or have them operate on their own. Self-adjusting plantation shutters – which is one of the available options – will use sensors to test the levels of brightness and temperature and then adjust their slats to maintain the atmosphere you established. Your Calabasas property can benefit significantly from our custom motorized plantation shutters. So find out more by scheduling a free estimate.
Low-Cost Wooden Shutters
No matter how many new materials there are, we still believe that wooden shutters are some of the best ones around. This is thanks to the high durability of wood, which makes it a tough and long-lasting material. It's also a testament to how great wooden shutters look. They're a great way to make any home look and feel amazing, whether they're fitted as interior or exterior shutters. You might not have to spend as much as you think, either. Get a free quote today to find out more.
Plantation Shutters Specialists In Calabasas
When you need top-quality plantation shutters for your home, make sure you talk to us, the plantation shutter experts in Calabasas. Our representatives provide free consultations throughout the local area, so you can be sure you're getting the highest level of service around. Why not get in touch today to arrange a free estimate?