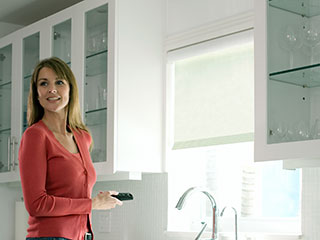 Ancient Egyptian Pharaohs used to have blinds made of reeds (a type of stalky plant) and they would have servants draw and close them whenever they wished. You probably don't enjoy such a luxury and are forced to adjust your window coverings (if you have any) yourself. Well, we're here to tell you that it's time to cross an annoying chore off the list and to get some motorized roller shades installed.
Make Your Life Simpler
Rather than having to manually fiddle with the strings to try and adjust how much sunlight gets in, the motor allows you to do it all easily and smoothly with minimal effort. Roller shades can also be made of cloth and have a huge variety of styles for you to choose from. There are also models that offer light reduction and full blackout options. If you're looking for custom shades, we'll be happy to make ones that will be an exact fit for your window, no matter how odd it may be shaped.
Save Money On Energy
If you have a large home with many windows, particularly high up ones that it will be impossible to put manual shades on, you may be losing money because of them. The more sunlight that gets inside into your home, the hotter your indoor temperature will become, and the more your air conditioning unit will have to work to be able to stabilize the temperature. With motorized roller shades, you can simply press a button on a wall switch or a remote control, or to simply set a timer to ensure that your blinds are closed whenever you want. The power required to move these automated shades isn't a lot, so even though it will cost you a little energy, it will help you save a great deal more. This type of window covering can also help you add a layer of insulation to your property by preventing heat from escaping through the cold windows during the winter, and the level of insulation can be easily regulated by drawing or closing the shades as you see fit.
Experts At Your Service
Our team is ready and waiting to come out and measure all of your windows carefully to ensure that the new motorized shades we install will fit each of them perfectly. The top-quality tools and materials we use, combined with our long experience ensures a fast and reliable installation work, leaving you with motorized roller shades that will last you for years to come. Contact our experts at Calabasas Blinds & Shades today to learn what we can do to modernize your home with the best window treatment options available!