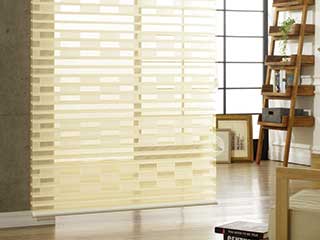 If you want something unique for your interior decor, then silhouette blinds may be just perfect for you. Their elegant design is hard to beat, and they're capable of maintaining an exquisite look while being highly durable. Thanks to their rotational fabric vanes, which are set between two layers of sheer fabric, you get to control the amount of light that gets into the room and the level of privacy you want. Our company offers a wide range of models which are covered by our 5-year warranty.
A Classic Look For Your Office
Want to get that cool and retro 1980s look? Then silhouette blinds are the way to go. They can make every office look like a high-end corporate-scale establishment with very little effort. If you're more of a 1940s fan, and you want to achieve that classic noir-detective office vibe, then this window treatment option is bound to do the trick.
A Unique Atmosphere In Your Home
There are plenty of options with these window coverings, and they can make an excellent choice for practically any residential or commercial property. You can choose a design and colors that are in line with your personal taste and with the interior design layout you want to create in the room in question. Pastel colors are often preferred for being joyful and relaxing, but you can also opt for contrasting ones to create a more dramatic stylistic effect. We will help you make the best choice by offering free color samples. With them, you can easily decide how well the new blinds will fit your internal decor.
Experts At Your Service
With our team at Calabasas Blinds & Shades, you can rest assured that you'll get custom shades that will fit your windows perfectly regardless of their size. Our silhouette blinds are great a great fit for many rooms, and especially for sliding glass patio doors. Some of our customers use them as room dividers due to their high aesthetic appeal and easy open/drawn convertibility. Of course, choosing the right type of shades for you is only half the battle. You can count on our professional blinds installation specialists to ensure that your new window treatments fit perfectly!
What are you waiting for?
Call Now 818-661-2406