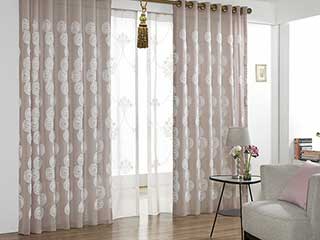 Window curtains and drapes are more affordable and come in more variety than ever before. For Calabasas, CA residents, a call to Calabasas Blinds & Shades can have you sorted. You can have custom-made discount curtains and draperies manufactured, delivered, and installed. All nearby properties can have custom blackout curtains and motorized drapes delivered and installed. It's as easy as calling to schedule a free estimate.
Curtain And Drapery Rods
Curtains and drapes both need something to hang from, and that something is usually a metal, wooden, or plastic rod mounted above the window. If you need something installed from scratch, our team will include rod delivery and installation with your order. Depending on the type of window hanging you want, the rod can come equipped with hooks, hoops, or with the drapes sewn around it.
Motorized Window Curtains
One of the more modern options for home and office curtains is to have them motorized. Having remote control curtains and drapes means you can control them from anywhere inside the house. With Wi-Fi compatible systems, you can even use your smartphone. If you integrate your curtains with your smart home system, you can draw them from virtually anywhere in the world. Anywhere where you can get a signal, that is. We've installed motorized curtains for all sorts of Calabasas properties. If you're interested in more information, be sure to let us know.
Drapes Vs Curtains
What are curtains, and what are drapes? The difference between curtains and draperies has to do with thickness, length, and opening method. Curtains are thin, usually only cover the window or door, and open and close by sliding along their rod. Drapes are thicker fabric sheets that hang down to the floor, and can be pulled and tied back instead of or addition to being slid along the rod. Choosing between curtains or draperies is an important decision. The most important factors are how much space the room has. How much light protection you want? And let's not forget how imposing you'd prefer the window coverings.
Cheap Curtains And Custom Drapes
Calabasas Blinds & Shades emphasizes our custom curtains and draperies in particular. With the help of our consultants, you can decide exactly what type of window hanging each window needs, including the best material, color, and embellishments. Blackout curtains that keep your bedroom perfectly dark and quiet, motorized curtains that open by remote control or timer, and elegant curtains and valences sets are all available. Drapes can be made from cotton, wool, satin, or synthetic fabric, and embellished with lace, trim, or tails, as well as embroidery and slits. The sky's the limit, and all at rock bottom prices.
Blackout Bedrooms Curtains
Window hangings for your bedroom should have blackout qualities. Why? Because excess sunlight is the no.1 cause of sleeping issues. Therefore, blackout curtains for bedroom windows are an absolute must. You want to have the option to sleep in regardless of what time it is. Well, with blackout curtains you can do that easily. Enjoy your Calabasas home with ease and convenience by adding blackout curtains to any or all of your bedrooms.
Call Calabasas Blinds & Shades For a Free Estimate
Your windows need all the love you can give them. The Calabasas Blinds & Shades team is eager to prove their chops to you. Give us a call and schedule a free consultation appointment today to start your window curtain or drapery order. Meet with an expert and tell us what you're looking to get from your curtains and drapes.