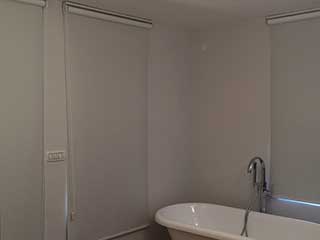 Some neighbors have a serious rubber-neck problem. You can find them constantly sneaking peeks through their windows to see what their neighbors are up to. Calabasas is no different in that regard. Every street has its residential busybody. If you have such a neighbor than you probably value your privacy more than most and you'll be looking for ways to prevent sneak peekers from invading your home with their all-seeing eyes. And that's where privacy blinds, curtains, and shutters come in handy.
Custom Blinds For Adding Privacy
If the eyes are the windows to our souls, then the windows of your home are an eye into the soul of your house. Calabasas Blinds & Shades can give you the privacy you need with an extensive range of shades and blinds that can add value to your home and be an invaluable barrier between you and those nosy neighbors.
Plantation Shutters – Elegance and Durability
A man's home is his castle and the queen also doesn't appreciate feeling like a goldfish in a bowl being gawked at all the time either. Consider the elegant and timeless look of plantation shutters for your windows. With one simple movement, you can let in the warm sunlight, or you can close them and keep your home your private domain. No window or door is too big or too small for plantation shutters and they will give your home a breezy, charming look.
Complete Darkness With Blackout Blinds
If you live in the Calabasas area you know how hot those long summer days can make your home. There are, of course, blinds and shades that can help with that. But that's not our focus right now. If you're a shift worker the sun can pierce through closed eyelids and prevent you from getting some much-needed sleep. Curious neighbors may also be peeking in and wondering why you're sleeping in the middle of the day. Check out our range of blackout blinds. They do a great job of blocking the heat and glare of the sun while offering you the privacy you need to rest when you need to.
Blackout Curtains Do The Job Right
Apart from blinds, you've also got other forms of window covers to choose from. Blackout curtains are also a great choice and you can choose to have bright, cheerful colors to lift your spirits from the inside, with thick, insulating layers facing the outside to prevent the sun and heat coming in. With a wide range of blackout curtains and draperies to choose from, you can easily find something for your interior décor. Remember, our window shading products are custom made. So you can design and customize your blackout curtains as you see fit.
Vertical Window Treatments
Vertical blinds are a great option for your windows and the color and material options are endless. The beauty of vertical blinds is that you can adjust them to give you an outside view from either direction. Or perhaps the direction you choose is to block is from the vantage point of a neighbor who likes to see what you're up to. For complete privacy close them altogether. Verticals give you the freedom to choose your level of privacy and let in the light when you want it.
Blackout Roman Shades – Elegance And Charm
Smaller windows look amazing with Roman shades. The ruffles and folds add a little elegance to your windows and you can pull down the shades when you want a little privacy. If you have floor to ceiling windows you can still enjoy the stunning look you can get from blackout Roman shades. We can custom make your new Roman-style coverings to fit any size. Sheer options available too.
Best Privacy Blinds Near Calabasas
For the best blinds and shades to add privacy, comfort, and charm to your property, call Calabasas Blinds & Shades. Our experts can give you the best advice and help you select the right colors and materials without compromising your privacy. Book a free estimate and see what sort of choices you have.