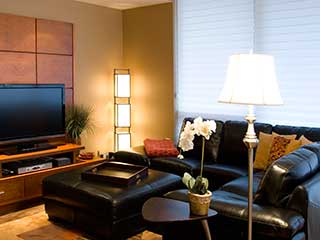 Thinking about installing new window treatments or changing your current ones? The variety of different designs and styles available today can make it quite challenging to decide which option is the best one for you. Motorized roller shades, or even manually-operated ones, can be a perfect choice for many properties, and they have a lot of advantages to offer you.
Simple and Easy to Use

Roller shades are not complicated, and using them is very easy and both children and the elderly can manage it very simply. These units are relatively simple to fix if they ever break or start to develop some issues. It also means they tend to be very affordable and can be easily customized, both in their manual and motorized variety.

Great For Styling

Many of the most modern blind designs will only come in certain colors, fabrics, and textures. Rollers will be widely available in a huge range of tints and hues and varying patterns as well. This is great for styling choices, as it gives you a wide flexible range to work with, and will allow you to find the option that's best suited for your particular taste.

Energy Saving Insulation

This type of window treatment is essentially a sheet that covers your window. If it is wide enough, it can be an effective insulation tool that helps regulate the temperature inside your home. Cellular shades offer insulation qualities too, but they are more complicated and in most cases are also likely to be more expensive. The fact that roller shades can help keep the property warm during winter by covering the windows and preventing a lot of hot air from escaping can more your property more energy efficient, which will reduce your heating bills and save you money.
Looking For More Information?
To sum it up, roller shades, motorized ones or even just manually operated units, can be a useful, easy-to-use addition to your home or office windows. Of course, there is a wide range of options and different variations, so if you have some additional questions, don't hesitate to reach out to our experts at Calabasas Blinds & Shades to get the helpful answers you're looking for.
If you're interested or wondering how these units might look on your windows, give our company a call today!