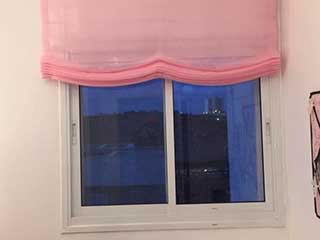 Window shades have been offering households an unprecedented level of comfort, decoration variety, light control and privacy for a very long time, which is why they are now such a popular addition to most homes and office spaces. Unfortunately, as they become older, blinds can often start experiencing a number of problems which will undermine their effectiveness. So, if you were looking for a quick fix to some of the most commonly faced issues with blinds, perhaps this guide will help you along the way.
Vertical Blinds Stuck on The Railing
Vertical blinds are extremely useful for sliding doors, and when they work correctly, they can be a great way to ensure optimal levels of privacy and light filtering. Unfortunately, when a few of the slats of these window coverings become displaced, they can obstruct others in their line from moving correctly, causing them to stop moving smoothly along the rail. If this happened to you, you can try to rotate each slat manually to ensure that none of them get awkwardly stuck behind the others. If that doesn't work, try spraying a small amount of silicone lubricant into the headrail and then gently move the blinds back and forth so as to spread the lubricant evenly. When you're done, you should have a smoothly moving set of vertical blinds.
A Cord Loop on your Roller Shades
Pulling the chain that operates your roller shades a little too hard can sometimes result in it slipping out of the gear on the roller chain. When this happens, take your shades off of the wall and lay them down on a flat surface; remember to ensure that they are properly rolled up. On the sides of your shades are small plastic clips which you should pop off (gently) on the side where the chain is hanging. You should now be able to see a small gear where the chord is supposed to be attached. Simply put the beads of the chord back in, reassemble the cap and mount the shades back onto the wall. This should solve the problem.
Telescoping Roller Blinds
Another common problem with roller window coverings is sometimes called "telescoping". This happens when one side rolls up faster and thicker than the other, resulting in a lopsided cylinder, and forming the shape not dissimilar to a telescope, i.e. one end narrower than the other. To fix this, you should first test to see if the shades are hanging evenly, which you can do by using a level. If they aren't hanging evenly, you should start adjusting the brackets until they are. If this isn't working, roll the shades down past where they would normally hang and apply a small piece of tape on the opposite end of where the material is gathering. Now roll them up to see how much of a difference this has made, and repeat the process as necessary.
Uneven Shades on Roman Blinds
If your roman shades are pulling up unevenly on one side it may be because your drawstring is cut too short. So, when they are being installed, make sure to take note of the string tension on all sides before they are trimmed, to ensure that they are able to apply even tension on either side.
Consider An Upgrade
These are some of the most common issues window shades and blinds can experience. As you can tell, problems of this type are usually relatively easy to fix by yourself. However, if your window treatments are consistently giving you problems, perhaps it is time to consider getting them replaced. Our experts at Calabasas Blinds & Shades will be happy to provide professional consultation that will help you find the perfect type of window coverings for your property.